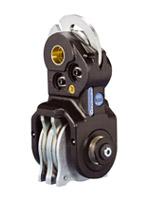 Swing, damper, MPB
Indexator's latest MPB (Multi Plate Brake) damping links offer the most advanced technology for effective damping.
A MPB damper gives you a high and smooth braking force, great control with minimum maintenance. It minimizes the swing of attachments during crane movements, ensuring faster and safer working with less strain.  With MPB damping links you get the best damping capacity.
MPB dampers are suitable for G and H-series rotators. There are single and double MPB swing dampers.
Picture: Double MPB swing dampers.
Picture: Double MPB swing damper